The Lodi Police Department was first organized in 1904. Thomas Davis, after serving two years as a marshal, became our first Chief Of Police. Chief Davis became known as the "Biggest Chief in New Jersey", and it was said that the good natured Chief got an awful kick out of that title. He became a popular Chief, and his sunny disposition and even temper were his greatest traits. It has been written of Chief Davis, "Chief Davis had an enviable reputation as an officer of fine character". Chief Davis died on October 8th, 1920, and Sergeant John Wisse was appointed acting Chief. Today there is a street in the Borough of Lodi named after Chief Davis ( Davis Drive ) and of his successor Sergeant Wisse ( Wisse Street). There were 7 members of the first organized police department in Lodi compared to 45 today.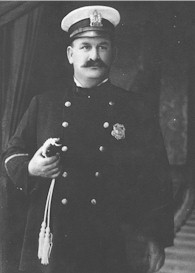 Chief Thomas Davis
October 1949
November 1953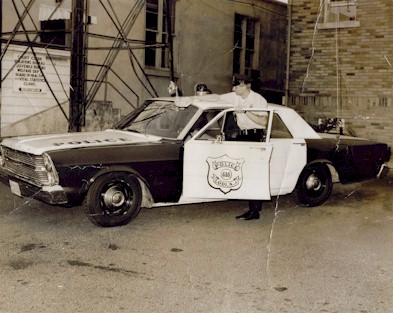 Pictured above is a 1965 Ford – Lodi Police car. The officer in the photo is P.O. Joseph Mazzotta polishing his assigned vehicle. If you look in the upper right hand corner of the photo, you can see a window which was located in the bathroom of the old police station. If you look closer you can see a handle hanging in the window. This handle was pulled from the bathroom to sound a fire alarm. The officers had to stand on the toilet to reach out and pull this alarm. So imagine how stressful it would be for the desk officer to sound the alarm if the bathroom was occupied at the time!

Lodi Police Deparment Memorial Day Services 1968
Pictured above is a 1965 photo of five new officers speaking with the Mayor and Chief of Police. From left to right: PO Andrew Monocky, PO William Catalioto, PO Joseph Pedone, PO Walter Anderson, PO Joseph Mazzotta and Albert Branca. Seated is Mayor Frank Belli and Chief Michael Sproveiro. The new officers are holding night sticks in their hands.
Pictured above is a 1970 photograph of the Bergen County Police Academy Graduation. From left to right PO Fortunato "Duke" Scimeca, PO Allen Discorfano, Unknown Officer, PO Chuck Luciano, Judge Henry Smith and at the far right PO Joel Trella of the Bergen County Police Department. Joel Trella later became the Chief of the Bergen County Police Department and upon retirement was elected as Sheriff of Bergen County.
Pictured above is a solemn swearing in ceremony for 5 new police officers in 1963. This photo was taken a short time after the murders of Sgt. Peter Voto and PO Gary Tedesco. Notice the mourning bands over the badges. From left to right are Joseph Cuccio, Frank Belli, PO Richard Sindone, PO Edward Kukalski (now Retired Chief of Police), PO Paul Perriera, PO Calazzo, PO William Pisano, Anthony Bonuro, John Bruno and Philip Wagenti.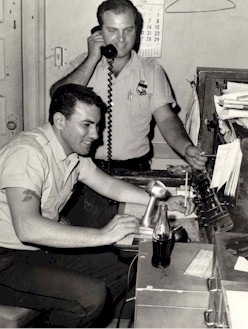 Pictured above is a 1967 photograph of the old police desk from the Main Street station. Seated working the police radio is PO Joseph Pedone. Standing to his left on the telephone is PO Paul Perreira Sr. Notice PO Perreira has his left hand on a cord connected to the desk phone which had to be plugged into a board to connect the call.
Pictured above is a photograph of PO Paul Perreirs, Sr. on his Harley Davidson Motorcycle along with PO Joseph Pedone on his Harley Davidson Trike Motorcycle posing for a picture. These were two of our first motorcycle officers who handled traffic in the borough. The Lodi Police Department still uses motorcycles fo limited traffic enforcement and special details.
Pictured above is a 1959 photograph of the Lodi Police Department Pistol Team. Weekly, officers from departments across the County use to get together at different police ranges and compete against each other head to head in shooting competitions. In this picture from left to right are – R. Facella, P. Wagenti, P. Trocola, A. DeFranco, P. Patire and S.P. Wagenti