Welcome to the Lodi Police Department's Internet home….
PUBLIC NOTICE
The Lodi Police Department is scheduled for an on-site assessment as part of its program to achieve accreditation by verifying that it meets recognized professional best practices.
Administered by the New Jersey State Association of Chiefs of Police, the accreditation program requires agencies to comply with best practice standards in five basic areas: the administrative function, the personnel function, the operations function, the investigative function, and the arrestee/detainee function.
Agency employees and the public are invited to offer comments by calling (973) 473-7600 Ext 8187 on Sunday, November 22, 2015 between the hours of 11:00 am and 01:00 pm..  Comments will be taken by the Assessment Team.  Email comments can be sent to the police department's Captain Joseph Quatrone at jquatrone@lodipd.org
Telephone comments are limited to 5 minutes and must address the agency's ability to comply with the NJSACOP standards.  A copy of the standards is available for inspection at the Lodi Police Department, 1 Memorial Drive, Lodi, NJ.  Please contact Captain Joseph Quatrone at (973) 473-7600 Ext 8105 for more information.
Anyone wishing to submit written comments about the Lodi Police Department's ability to comply with the standards for accreditation may send them by email to Harry J Delgado, Ed.S Accreditation Program Manager, hdelgado@njsacop.org, by phone 856.334.8943, or write to the New Jersey State Association of Chief's of Police, Law Enforcement Accreditation Commission at 751 Route 73 North, Suite 12, Marlton, N.J. 08053.
---
Free gun locks available to residents
In an effort to promote awareness and child safety, the Lodi Police Department is giving away free gun locks to any Lodi resident with proper identification showing your Lodi address. In addition, gun locks can be obtained when you pick up your permit to purchase a firearm.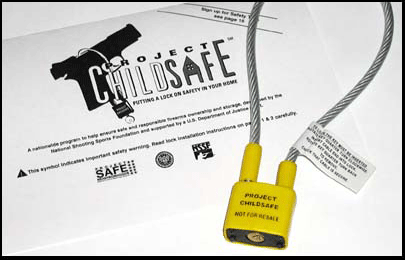 Please see Records Division personnel to obtain your free gun lock.
The Records Division is open Monday through Friday from 8:30 a.m. to 4:00 p.m. Locks can also be obtained on certain late nights at our records division. Please call to find out when these nights are, as they coincide with evening Municipal Court sessions, 973-473-7600, option 5. 
These locks are provided through Project Childsafe
Keep your kids, and entire family safe with a free gun lock. Thank you PO Delmonaco for bringing this service back to the community!
---
Did you know that most infant and child car seats are incorrectly installed?
If you have any questions, concerns, or would like to schedule a car seat installation or inspection, contact PO Dominic Miller from our Traffic Division for an appointment. PO Miller has been trained and certified as a car seat installation technician by the New Jersey State Police through Safekids Worldwide, and can assist you in keeping your family safe. Visit our Traffic Division web page for more information and to schedule an appointment.

---
Effective July 1st 2015, Records/Central Services Division will no longer accept cash payments for services. (i.e. accident reports, OPRA requests, gun permits etc.)
Acceptable forms of payment are check or money order.