We have launched our new and updated Facebook page!
Give us a follow for the latest news and announcements!!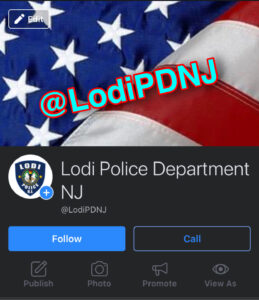 ---
Lodi Police partners with RAVE MOBILE SAFETY

The Lodi Police Department has partnered with Rave Mobile Safety as our emergency alert system source. This replaces our Nixle Alerts System, which will no longer be used after December 31st, 2020. By signing up for a FREE account, you will be able to customize and control all your notifications, and opt in for text, email, voice/reverse 911 notifications, and more. After registration, download the accompanying FREE Smart911 app, to further enhance your experience. From there, you can fully customize your alerts, enter emergency contact info, medications, medical conditions, and can be shared, at your choosing, with first responders if you dialed 911 from your smart phone. Join us for this new age in advanced alerting, and don't miss out on anything happening in town. Sign up for FREE today by clicking the picture at the top of our page!!! 
Welcome to the Lodi Police Department's Internet home….
__________________
The Lodi Police Department utilizes Body Worn Cameras. An example of the camera and location are depicted below:

---
Introducing the Military Memorial Program
This new program honors our deceased Lodi Veterans by erecting a sign at the Walkway of Peace displaying your loved ones image, branch of service & years of service. This is free of charge to Lodi residents. More information can be found by following the links below.
Military Service Records Request / DD214
________________
New Jersey Attorney General Immigrant Trust Directive
Per Directive 2018-06, links to assist non immigrants with temporary U and T visas can be found here:
________________________________
New Jersey Attorney General Annual Major Discipline Reporting Form
Per Directive 2021-06, below is the Annual Major Discipline Reporting Form that is utilized by this agency.
_____________________________________________________________
Notification of State required early warning system for use of force reporting.
In accordance with the New Jersey Attorney Generals Office 2018 requirement that all law enforcement agencies must employ an early warning system to track use of force reports and ensure an early warning system, the Lodi Police Department has in place, an early warning system. Although this requirement is new, the Lodi Police Department has had an early warning reporting system in place for nearly 15 years. The system allows the department to document and track use of force reports and review them for policy compliance, ensuring the public that all officers act within the guidelines of state law at all times. You can review the NJ Attorney General's requirements here: NJ Attorney General Use of Force Early Warning System Directive
---
Notification of State required drug testing policy for law enforcement
In accordance with the New Jersey Attorney General's Law Enforcement Drug Testing Policy and the New Jersey Attorney General's Law Enforcement Directive No. 2018-2, this is official and required notification that the Lodi Police Department, an accredited agency, has a drug testing policy in place. To read more about the policy click here, 2018-21 LPD Drug Testing Policy 
---
New Home Security Survey available to residents!!!
Is your home safe? find out with a FREE Home Security Inspection and Survey by our trained officers.
Community Policing Unit – Home Security Information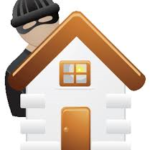 ---
Lodi Police has been certified by the New Jersey Association of Chiefs of Police as an Officially Accredited Agency
The Lodi Police Department is proud to announce that it has been officially certified by the New Jersey State Association of Chiefs of Police as an Accredited police agency. 470 police agencies are eligible to seek accreditation, however, only approximately 140 have gone through this rigorous process.
Research shows that accredited agencies have 11 percent fewer police professional liability claims, 18 percent fewer worker compensation claims and 31 percent fewer auto liability claims. They also received substantial insurance premium discounts. Accredited agencies are better able to defend against lawsuits and citizens' complaints, and provide objective evidence of the agency's commitment to excellence in leadership, resource management and service delivery.
There are 105 standards that need to be met on a national standard to become accredited. The Lodi Police Department has accomplished this by the hard work and dedication of it's members, its Accreditation Manager Capt. Joseph Quatrone, and Chief of Police Vincent Quatrone.  This accreditation signifies that the Lodi Police Department employs the latest technology, follows the rules & regulations set forth by the Chief of Police as well as the N.J. Attorney General guidelines and laws of N.J.
---
Free gun locks available to residents
In an effort to promote awareness and child safety, the Lodi Police Department is giving away free gun locks to any Lodi resident with proper identification showing your Lodi address. In addition, gun locks can be obtained when you pick up your permit to purchase a firearm.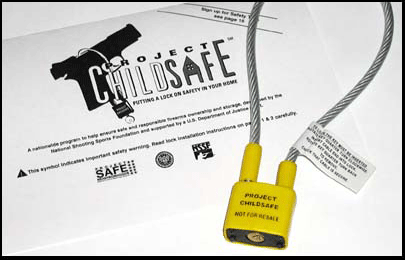 Please see Records Division personnel to obtain your free gun lock.
The Records Division is open Monday through Friday from 8:30 a.m. to 4:00 p.m. Locks can also be obtained on certain late nights at our records division. Please call to find out when these nights are, as they coincide with evening Municipal Court sessions, 973-473-7600, option 5. 
These locks are provided through Project Childsafe
Keep your kids, and entire family safe with a free gun lock. Thank you PO Delmonaco for bringing this service back to the community!
---
Did you know that most infant and child car seats are incorrectly installed?
If you have any questions, concerns, or would like to schedule a car seat installation or inspection, contact Sgt. Dominic Miller or PO Keith Watts from our Traffic Division for an appointment. Both officers been trained and certified as a car seat installation technician by the New Jersey State Police through Safekids Worldwide, and can assist you in keeping your family safe. Visit our Traffic Division web page for more information and to schedule an appointment.

---
Effective July 1st 2015, Records/Central Services Division will no longer accept cash payments for services. (i.e. accident reports, OPRA requests, gun permits etc.)
Acceptable forms of payment are check or money order.